How To Choose The Right Jeans For Your Body Type And Shape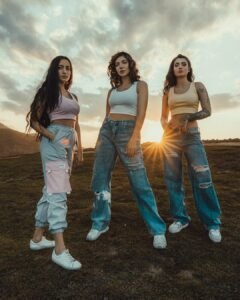 Shopping for jeans may sound easy, but it is not, especially if you're shopping online. They all look good and from what you can judge on the screen, you click 'buy and ship to your address. Unfortunately, things don't always go as planned. There is always the risk of buying a size bigger or smaller. What you see on the model and on the mirror once you put them on leaves you with a sad face.
What could have gone wrong? You wonder.
Well, the long-short of it is, a lot! Other than size, we rarely factor in the cut, design, wash, and fabric material. And the basic reason why these are important is – small denim can be salvaged if the material is stretchy. To ensure you don't get it wrong you must understand your body type and the jeans that will best complement you.
The most popular with the younger generation, skinny jeans can be worn by all body types but flatter women with an hourglass or pear shape best. Compared to the other styles, it is figure-hugging and slimmest at the ankle. When picking one, you want to go for a stretchy fabric so it can sit perfectly on your body.
These have been enjoying the limelight for a moment now and it is because of the varying degrees they fit. If you have an inverted triangle shape, wide shoulders, and smaller hips, this will complement your figure due to its roomy fit.
This classic looks fantastic on slender women with small waists or those with athletic bodies. Sitting at the natural waistline above the belly button, high waist jeans look amazing when paired with a crop top, a bodysuit, or with a tucked-in top.
Similar to the flare jeans, it has a more subtle wide leg and is designed to fit from the waist downwards to the thighs loosening at the knee. This works wonders for women with pear, apple, and hourglass figures. If you happen to be on the currier size, you want one that stretches.
Due to their stretchy material, they are incredibly comfortable and look super cute with fitted or crop tops. And since they run long, you want to pair it with the right shoes, preferably a pair of heels, so it doesn't overwhelm your frame. With the right inseam, petite women can rock them but they usually look best in women with pear and hourglass body shapes.
Not everyone's first option, these jeans continue to be a favorite due to their styling options. More popular with the younger women, they tend to sit loosely. Unless you pick a more fitting one, they generally fit most body shapes due to how they are cut and designed.
source: wamaimages.co.ke