6 Ways To Use Potato As A Beauty Product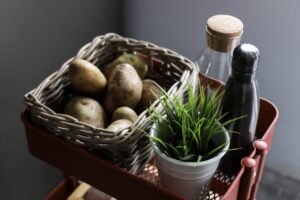 1. Dark Circle Remover
Potato is a safe and natural way to brighten up dark circles. Keep some potato slices I the fridge pop them
over your eyes for instant soothing and de-puffing.
2. Hair Fall
Combine potato juice and aloe vera gel . Massage into the scalp then comb through to the end to fights hair
fall.
3. Reduce Dark Spots and Scars
Mix honey and juice from the potato. Apply to the sin with a brush, leave it on for a 20 minutes, then rinse throughly.
4. Hair Shine Rinse 
Boil potatoes, peel and all for about an hour, take the potatoes out, save the water and rinse your hair with it to give a lustrous shine.
5. Acne Fighter 
To help clear skin apply potato juice directly to blemishes with a Q tip or wipe the whole face with potato juice just as you would a tonner.
6. Brighten Skin 
Soak tissue paper, towel or washcloth in potato juice , then drop over the face for a flowless complexion.